As a resident of a major city, I have a distinct idea of what "downtown" means to me. So when I first watched the short "Downtown" last year, I was amazed at how director Kendra Vander Vliet could create a vibrant picture of city life in less than 2 minutes of storytelling. As we celebrate the 1-year anniversary of Short Circuit on Disney+, I sat down to chat with Kendra about her experience working on "Downtown" and what viewers can expect from Disney Animation in the future. You can check out our EXCLUSIVE interview below:
---
CORBAN: What was your first experience working with the Walt Disney Company, and how did you get involved with "Downtown"?
KENDRA VANDER VLIET: My first project at Disney was in 2013 to work on Frozen. Some years later the studio created an in-house program called Short Circuit where anyone in the studio could submit an idea to create and direct their own animated short. I decided to apply and was very fortunate to have been selected.
CORBAN: Frozen is one of my favorites! Having worked on short films and feature-length films, how much time does it take for a 90-second short film like "Downtown" to go from conception to completion, and what teams collaborate to make a short film like this possible?
KENDRA VANDER VLIET: The project is 3 months from start to finish. We focus on pre-production for our first month, getting the story written, storyboarded, character, production designs, and we started thinking about the music. By the 2nd and 3rd month we are in full production. Sound mix and color timing happen sometime after that.
"Downtown" was being made the same time Frozen 2 and Raya were in production, so we had a large crew that would come and go between the films. But there was a core group of supervisors for certain departments that stayed on the project from beginning to end.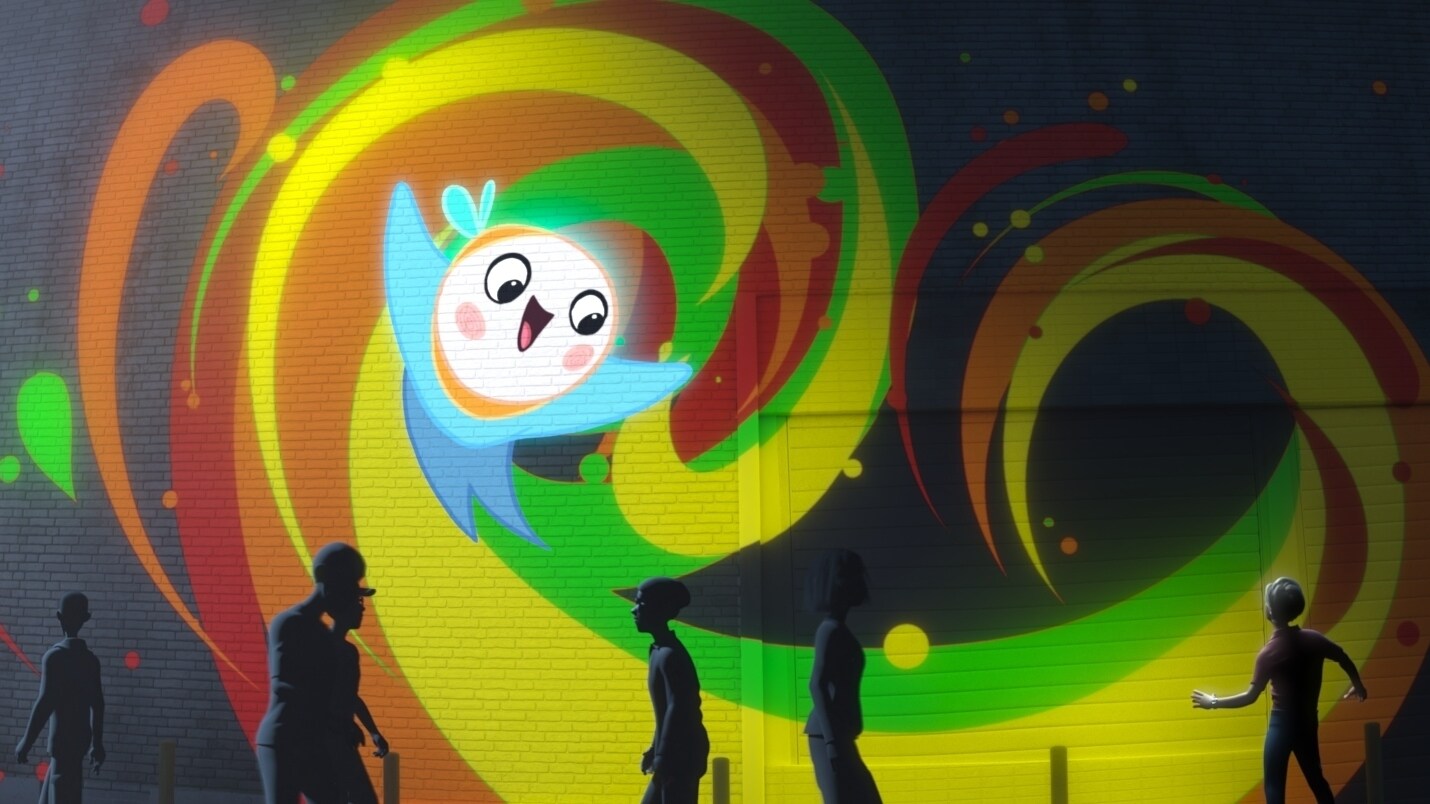 CORBAN: Disney has always represented the gold standard of creativity and collaboration, and I love how the Short Circuit program gives new talent a chance to tell their stories. In looking at the story of your short film, the characters of "Downtown" are all shrouded in silhouette. Without the use of dialogue or many facial expressions, how did you convey the attitude and emotions of your main character as he takes a vibrant trip through the city?
KENDRA VANDER VLIET: I wanted to highlight that feeling of being "lost in the crowd" or "one among many" by making the main character blend in with all the silhouetted crowd characters in the city and also to highlight that this is how the main character feels internally, as well.
Fantasia was a big inspiration for this short, so "Downtown" is a lot more subjective and experimental in its execution. We had over 200 street mural designs created by our production designer to help visually tell this character's journey, so every color and shape represents either the graffiti creatures' expressions or the expression of the main character.
CORBAN: I love the connection between the unique visuals of "Downtown" and the beautiful imagery of Fantasia. What inspired you to give the "graffiti creature" a shape similar to a manta ray, and how does that contribute to the whimsy of the short film?
KENDRA VANDER VLIET: There's something about how a manta ray "smiles" – whenever we looked at a photo of one, everyone in the room would instantly light up with a huge smile on their face. Since my short is about the discovery of joy, the manta ray fit that description perfectly.
CORBAN: "Downtown" packs a lot of joy into its short runtime, and the film's manta ray is adorable! I noticed that you have also been involved with the Baymax! series, which will be heading to Disney+ sometime in 2022. While I understand that some of the details are under wraps, what can viewers expect when they see Baymax! on Disney+?
KENDRA VANDER VLIET: It was great getting to work with Baymax again, as I worked on Big Hero 6, too. "Downtown" used a lot of the set pieces from San Fransokyo actually for our cityscape (easter egg) so it's always fun getting to jump back into that world.
Expect to see new faces and a lot more San Fransokyo. I wish I could tell you more!
CORBAN: I can't wait to learn more about Baymax!, and so many people are excited to delve deeper into the world of San Fransokyo. While we wait to see Baymax and the gang in 2022, do you have any future projects in the works?
KENDRA VANDER VLIET: I'll be working on Disney Animation's feature film for fall 2021, Encanto.
CORBAN: I am looking forward to celebrating Thanksgiving with Encanto, and I always love an original film from Disney! Thanks so much for joining me to chat about "Downtown" and the future of the Walt Disney Animation Studios – it was so great to hear your story!
And, to the reader, you can watch the Short Circuit film "Downtown" now on Disney+.
---